One of the questions I get from time-to-time is this: "where can I meet a good woman from the Philippines?"
One answer is to buy a ticket to Manila (or some other city in the Philippines) and start from there.  The problem with that answer is practicality:  Most of us can't just drop over a thousand bucks on a plane ticket to randomly search for a date.  You also have to keep in mind that there's no guarantee you'll meet someone just because you travel there.  It's probably in your best interest to have someone in mind before you buy your ticket.
The vast majority of Western men seem to meet Filipinas online.  This is a good option to get started. I know of some who just start chatting with women on social media, but I think this is kind of a "blind" approach.  You might just end up wasting a lot of time trying to sort through profiles and trying to figure out who is single.
I think you are better off joining a site where you can find single women who are specifically interested in meeting Western men.  For those who are considering this, I'd recommend ChristianFilipina.com.  I'm not saying all the other Filipina dating websites are bad.  I'm not even saying that I have spent countless hours comparing them all (I haven't).
What I can say is I did use a few Filipina dating websites back in my single days, and I think ChristianFilipina.com sets itself apart from the others.
I can also tell you that I have known the owner of this particular site for quite some time (almost ten years).  We go back to the early days of this blog, when I was first writing to give advice for men (like me) who were looking for love in the Philippines.  I believe he sincerely wants to help men meet quality Filipinas with traditional Christian values.  I also believe they work really hard to keep scammers from joining the website.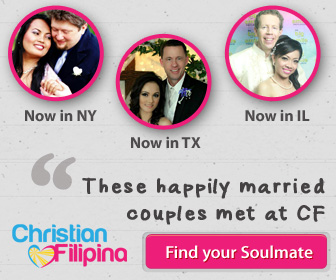 Another thing I like about ChristianFilipina.com is specialization.  Here's what I'm saying: some of the other sites are part of huge networks that include other websites that focus on other countries (Russia, Brazil, etc.).  But ChristianFilipina.com is focused specifically on the Philippines, and as far as I know, isn't part of any other such networks.  The website owner himself is married to a Filipina, so I know he respects both the women of the Philippines and the men that are looking for love.  The end result is quality over quantity and more attention to detail.
This website also kind of has a more spiritual feel to it.  When you log in there's a daily Bible verse on the right-side column.  It seems to attract some of the girls who may be reluctant to join some of the other sites–women with more traditional moral values, which is what you want if you are looking for a wife. Just consider the kind of pictures on ChristianFilipina.com vs. other dating sites and I think you'll see what I mean.
Note (2017): this post was originally written years ago, but I still stand by it 100%–my opinion hasn't change.
Just CLICK HERE if you'd like to check it out.  It's the only website I recommend for Filipina Dating.